October 14th, 2014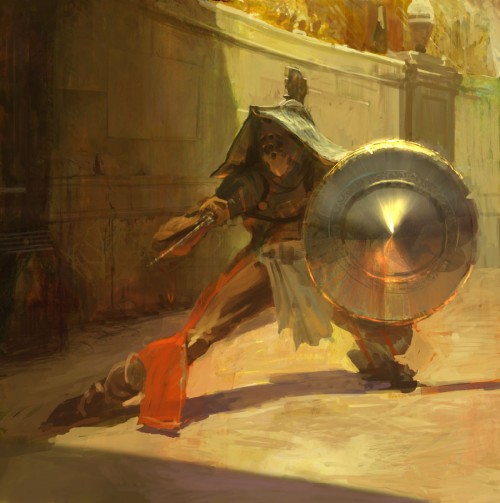 In which we brew up a Sword & Board trip specialist that leverages Barbarian and Rogue class features to improve performance.
Dungeons & Dragons enthusiasts frequently think of the Barbarian as an unarmored hulking brute that lashes out mindlessly, heedless of his own safety. The Fighter is frequently thought of as a heavily-armored knight or mercenary with a sword and shield deftly and methodically beating down his foes. Putting the two together is generally not the most efficient way to take advantage of either's strengths. Let's see what we can do to harness the fury of the Barbarian for a classic Fighter approach to things, with a side trip to Rogue for a little something extra.
To select a starting point, we look at the facets of a class that differentiate by multiclassing benefits. Both have proficiency in Strength and Constitution saves, so no difference there. You start with full hit points, so the Barbarian's d12 edges out the Fighter's d10. The Fighter has a somewhat more broad selection of skills to choose from. The Fighter has proficiency in heavy armor only as an initial class. If we want to go with a heavy-armor sword & board approach, this is important. We're going to skip that, so it's immaterial. A point to consider at low levels is survivability. We cannot get a Fighter/Barbarian character until 2nd level, and 1st level characters are rather fragile. The Barbarian Rage feature grants resistance to non-magical weapons a 1st level, which along with a higher Hit Point value gives our Savage Duelist a better chance at living to see level 3. We start with Barbarian.
Traditionally a Barbarian is strong and wields weapons that benefit from this. In order to multiclass to Fighter we'll need a 13 Strength, so from our Heroic Spread we put a 15 into Strength and 14 into Constitution. Our 13 goes to Wisdom, our 12 into Dexterity, our 8 to Intelligence, and our 10 to Charisma. We will be bouncing around a bit between character classes, so trying to beef up to take full advantage of Unarmored Defense probably isn't going to pay off for us. We select Human because we are already enough of a special snowflake as it is, and we want an extra feat early on. +1 goes to Strength and +1 to Wisdom bringing our statline to: Str 16 Dex 14 Con 14 Int 8 Wis 12 Cha 10.
We have 14 hit points and an Armor Class of 17 with a chain shirt and shield. Our feat is Shield Master, which will be important mostly for the generation of bonus actions. To take best advantage of Shield Master, we make sure to select Athletics as a skill proficiency. The second goes to Perception because you never know when you're going to need that one. The Outlander or Soldier background is a bit on-the-nose, so let's select the Acolyte background, gaining Insight and Religion and two additional languages. Proficiency in Athletics will give us a +5 total to our Strength (Athletics) checks to shove or knock down opponents and when raging we gain advantage on all of our Strength checks, so we should be quite competent at that. We use a Rapier as our primary melee weapon. We attack at +5 and deal 1d8+3 damage on a hit. While raging this improved to 1d8+5 damage. Whenever we select the Attack action we get a free attempt to shove a target within five feet courtesy of the Shield Master feat.
At second level we switch straight away over to Fighter, gaining a Fighting Style in the process. As a Sword & Board specialist, Dueling makes a lot of sense with +2 to damage done when attacking with a single-handed weapon. We now attack at +5 and deal 1d8+5 damage with that rapier normally, 1d8+7 damage while raging. We also gain the Second Wind feature, allowing us to recover 1d10+1 damage as a bonus action.
We stick with Fighter for the next four levels, gaining the formidable Action Surge feature at Brb1/Ftr2, selecting Champion as our archetype for the Improved Critical feature at Brb1/Ftr3, bumping up our Strength to 18 at Brb1/Ftr4, then finally gaining the coveted Extra Attack class feature all Martial characters covet at Brb1/Ftr5. We could have picked Battle Master for the tremendously-useful combat maneuvers and superiority dice, but we already have a good go-to trick for the heat of battle, so why not leverage frequent advantage on attack rolls for a little taste of critical hits?
At sixth level we switch to Rogue for a little while. Sneak Attack damage is nothing to sneeze at, even at 1d6, but more importantly we can select Athletics for Expertise. This doubles our proficiency bonus for shoving and tripping. At Brb1/Ftr5/Rog1 we attack with the rapier twice at +7 for 1d8+6 damage and can trip as a bonus action at +7 with advantage while raging. If trip is successful, we're attacking with advantage, allowing +1d6 sneak attack damage, improving our odds of hitting significantly, and scoring a critical hit worth 2d8+2d6+8 19% of the time. A little under once every other round.
Starting at seventh level we return to Barbarian, getting back to our roots for three levels. By Brb4/Ftr5/Rog1 we're approaching the end of most actual Dungeons & Dragons campaigns. We select the Bear Totem archetype, gaining resistance to everything but Psychic damage. We finally bump our Strength to 20, and at this point we attack twice at +9 with our rapier for 1d8+9 damage, trip at a +13 with advantage, have an 18 AC with a Breastplate and Shield. We can rage three times per day.
Once we reach our eleventh character level we can resume advancement as a Fighter. This gets us another feat or a stat boost, but unlike our pure Fighter brethren it will be a long time before we pick up a third attack per round, not hitting that milestone until Brb4/Ftr11/Rog1, but that's the price you pay.
At 10th level, while raging, we stand a 91.88% chance of tripping or shoving a creature with Strength or Dexterity of 20. Such a creature proficient in Athletics or Acrobatics stands only an 18.70% chance of keeping its feet under it.
Savage Duelist
Human Barbarian 4 (Bear Totem), Fighter 5 (Champion), Rogue 1, Acolyte Background, Chaotic Pushy
| Attribute | Value | Bonus | Save |
| --- | --- | --- | --- |
| Str | 20 | +5 | +9 |
| Dex | 14 | +2 | +2 |
| Con | 16 | +3 | +7 |
| Int | 8 | -1 | -1 |
| Wis | 12 | +1 | +1 |
| Cha | 10 | +0 | +0 |
Skills: *Athletics(13), Intimidation(3), Insight(5), *Perception(9), Religion(3)
Languages: Common, Uncommon, Very Uncommon, Ancient Greek
Hit Points: 88
Armor Class: 18 (Breastplate plus Dexterity plus Shield)
Initiative: +2
Weapons: Rapier (+9 to attack, 1d8+7 damage), Javelins (+9 to attack, 1d6+5 damage, range 30'/60′)
Sneak Attack: +1d6 damage
Other notable features: Rage (3 per day), Resistance to all but Psychic damage while raging, Second Wind (1d10+5 hp as bonus action once per short rest), Action Surge (once per short rest), Shield Master (benefits to Dexterity saves, free Shove as bonus action when using Attack action), Danger Sense, Short fuse.
Please feel free to use in your own adventures, with or without attribution or even remembering where you got the idea. Games are made to be played.
---