July 25th, 2006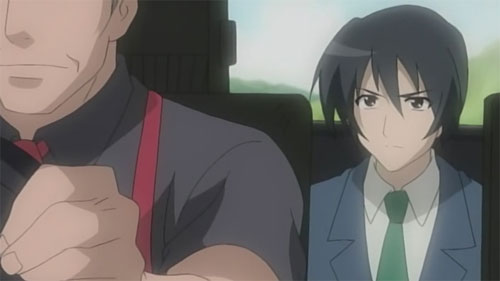 Episodes 14 and 15 comprise a short "time wasting" arc that takes the focus away from Keiichi and his classmates, starting this time before the construction site murder in Hinamizawa and focusing on a young investigator from the PSIA investigating the abduction of a young boy. The change of pace here is palpable. From the previous 13 episodes, we have no reason to think that this protagonist is about to be slaughtered by a vengeful mountain spirit or murderous townsfolk, which provides a big shift in the tone of the story. This shift itself is a bit unsettling in the context of what came before it, but the "time wasting chapter" is more of a police drama than a creepy thriller.

Through Akasaka, the young investigator, we see Hinamizawa through the eyes of an outsider. Keiichi, the protagonist from the previous plot arcs, was an outsider of sorts, but was too close to the action to really benefit from resources like Inspector Ooishi. We get to see the seriousness with which the three families of Hinamizawa need to be taken, as they rise in my esteem from a local group of yakuza bumkins to credible crime-lords. Oryou Sonozaki, Mion and Shion's grandmother, is clearly someone to be reckoned with.
Several characters from the other (chronologically-later) plot arcs make appearances in this one, including Inspector Ooishi (who is far more capable than I originally gave him credit for), Rika Furude (who is the focus of this arc, much as Rena, Mion, and Satoko were in the previous three), Doctor Irie (who seems more a man of principle than I originally gave him credit for), and Mion Sonozaki (who is simply present, learning her role in the family business). Each is related in some way to the kidnapping of the young boy, which is almost certainly an extortion attempt to halt dam construction, and Akasaka's brush with the Oyashiro-sama curse is nearly accidental, through his brief run-ins with the mysterious little girl Rika that seems to have so much insight. I get the distinct impression from this arc that Rika (who represents Oyashiro-sama's will) thoroughly-disapproves of the town and its inhabitants, though she is too kind-hearted and serene by nature to show it clearly. As the manifestation of Oyashiro-sama (the spirit that protects Hinamizawa), her disapproval of the town would be a bad thing, indeed. Perhaps she arranged for the curse to remove her protection from Hinamizawa, ensuring its demise five years later?
In an interesting twist, episode 15 ends with Akasaka and Ooishi meeting up years after the catastrophe of Hinamizawa (shown at the end of the previous plot arc). Rika has revealed to Akasaka that a series of murders would occur in Hinamizawa, culminating in her own death. The two compare notes, and it appears that Rika Furude was perfectly-accurate. How this could fit in with the details of the previous plot arcs, I cannot say; there seem to be some serious irreconcilable differences between each story. The next episode starts "the detective chapter," which is one of the "answer arcs" and looks promising. All previous Higurashi no Naku Koro ni stories have been "question arcs." I'm curious to see how that works out.