September 10th, 2006
Every season or so, we watchers of anime (they're just Japanese cartoons; get over it) are exposed to a new glut of titles. Many are derivatives of past manga (they're just Japanese comic books; get over it) or visual books / eroge / dating sims. Alas, I haven't been very good at keeping up with the broad variety of manga available, and just can't bring myself to play video games whose interfaces tend to revolve around staring at a slide show, clicking my mouse to get the next snippet of dialog. The summer is winding down, with shows like Higurashi no Naku Koro ni winding down and Zero no Tsukaima hitting the midway point, so it is just about time for a new crop to rise up and take their places.
Other, more focused sites like BasuGasuBakuhatsu and Makenai desuwayo have gone to the effort of researching and giving preview opinions of the literally dozens of shows set to air soon, but for some reason I just can't do it. My reasons for dismissing some of these titles are so petty, so trivial as to be almost embarrassing. Additionally, I've been so very wrong about titles in the past (G-On Riders looked so promising for a couple episodes, really it did!) that such predictions based on a handful of promotional drawings are just bound to fall on their face and reveal me as the untalented hack that I may well be.
That said, a couple of titles will definitely get a viewing from me, for at least a couple of episodes.

009-1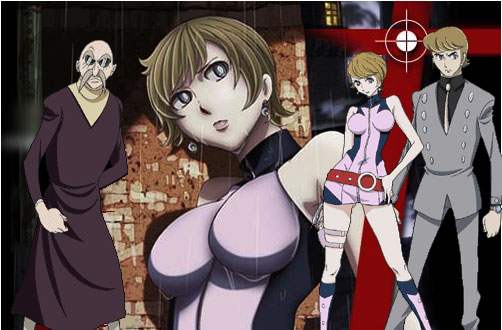 009-1 Looks like a solid throwback to the stylistic flair that I fondly remember as a kid watching Tranzor-Z, Speed Racer, and Voltron. Looking back, those shows really weren't that good, but they set me up nicely for Giant Robo and Kishin Heidan, two of my favorite over-stylized shows of all time. The premise here is basically a Cold War that has stretched on for 140 years, placing the story in a reasonably-near-future science fiction setting. The main character is apparently a spy named Mirenu. I'm hoping for lots of flashy, totally-implausible Castle of Cagliostro-style chase scenes, posturing villains that think they're smarter than everybody, neato gadgets (the old exploding shoe-bomb trick, eh?) and so forth. I'm prepared to be disappointed.
Pumpkin Scissors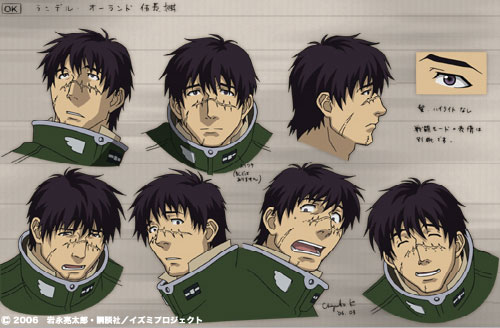 Another would be Pumpkin Scissors. I don't really know what it's about, other than some kind of military group with a funny name. The oaf pictured above strikes me as a superficially-likable guy. The story appears to take place after a lengthy war and a tense cease-fire, which really doesn't say a lot about what the characters in it will be up to. Apparently Gonzo is doing it, which means it's likely to be either really spectacularly good or suck so terribly that I'll be tempted to redact this post later. We'll just have to wait and see.